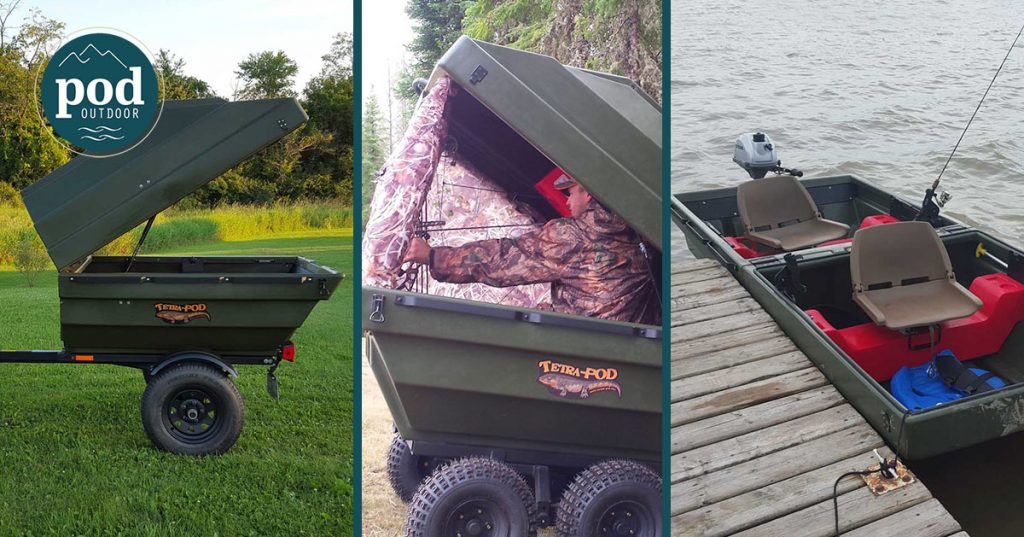 The Tetra-POD is the only enclosed trailer in North America that turns into a boat.  It comes in either an off road version or an on road model. If you need a boat/trailer to pull behind and ATV than the Off Road Tetra-POD is perfect for you. If you need a boat/trailer to pull behind your car or truck than the On Road Tetra-POD is the better choice. The Off and On Road Tetra-POD's are the exact same in every way, except for the axle. The Off Road has a 2000 lb Walking Beam Axle, where as the On Road Tetra-POD has a Dexter Torsion Axle which is better suited for those longer drives with your car.
To place and order, ask a question or get a shipping quote call 417-237-0129 or email bruce@bjsassociates.com

Perfect for small lake fishing, off-road excursions, trips to the dump, or just general hauling chores, the Tetra-POD can help you get to where you want to go. The small yet robust roto-molded  plastic tub trailer and 11ft jon boat  is the ideal solution for both work and play.
If you have any questions about the Tetra-POD or about any of our other products, please contact us by chat in the bottom left hand corner of our site or via the email form on our contact page.
To place and order, ask a question or get a shipping quote call 417-237-0129 or email bruce@bjsassociates.com